Survey
This is a three-question survey regarding changes to the skate park feature at the city park on Main Street.
Please click on the link and let us know what you think.
| | |
| --- | --- |
| Incorporated: | 9-13-1909 |
| Altitude: | 5,080 ft. |
| Population: | 3,434 (2019) |
| County: | Sanpete |
- Gunnison Valley - Senior Citizens
---
Lunch is now served at the
Gunnison City Hall
Monday through Thursday
at 11:30 A.M.
Come and Join us!
Please Make reservations by 9 A.M.
on the day you plan to eat.
Suggested Donation
Seniors 60+ $3.00
Under 60 $6.00
---
My Hearing Centers
Keith Reber from My Hearing Centers is available for your hearing needs. He is at the City Hall every Wednesday.


Call 801-341-2193

for an appointment
---
Quilting
We are quilting Tuesdays and Thursdays
at the City Hall. Anyone wanting to learn to hand quilt you are welcome to come and join us.
There are hand quilted tricot baby quilts, tricot queen quilts, and pre-stamped or "cheater" quilts for sale. If you need a quilt hand quilted call.
Kathy 528-3654
Judy 528-5828
---
MARCH 2023
---
March 6th & 20th


Shopping & Dr. Trip to Richfield


The bus will be at the Gunnison Senior Center, please call Lorna the day before to secure your spot on the bus. If you need to be picked up at your home call Lorna 435-528-3781 to let her know.
March 20th
Dinner @ 6 pm. Corn Beef & Cabbage
Please bring your own dishes and silverware. Also, bring something to go with the Corn Beef or your favorite dessert.


---
Senior Nutrition Program March 2023


Suggested donation




Seniors 60+ $3.00


Under 60 $6.00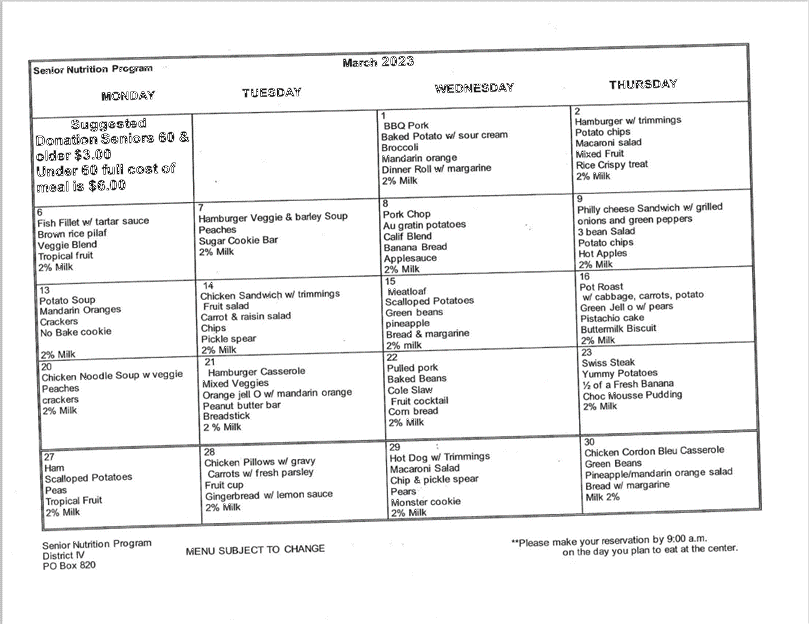 Sanpete County Food Pantry
The Sanpete County Food Pantry covers the whole County. They Provide 3 main services to our neighbors here in Sanpete County
Food pick-up every Wednesday and Thursday afternoon from 1 PM to 3:30 PM at their main facility in Mount Pleasant. 1080 Blackhawk Blvd., Mount Pleasant, UT 84647.
Our mobile food truck program delivers to two different sites.
Our Kid Packs Program. This is where we provide two breakfasts and two lunches every weekend plus snacks. This program is run with the help of the schools and the libraries in our county.


We have been able to help 3,142 families through the month of September 2022.
That is a total of 9,836 individuals.
Let's put this in perspective:
Total of 205,380 + Pounds of Food.
Total Meals Provided 273,840.


You can help the pantry make the Sanpete County A No Hunger Zone by donating to the Pantry in one of the following ways;
In Person donation Cash / Check every Tuesday through Thursday 10:00 am through 3:00 p.m. at our Main Facility in Mt. Pleasant (1080 Blackhawk Blvd.)
Mail a check to 1080 Blackhawk Blvd., Mount Pleasant, UT 84647.
Credit/ Debit Card Donation available on our webpage
https://sanpetepantry.org/donate